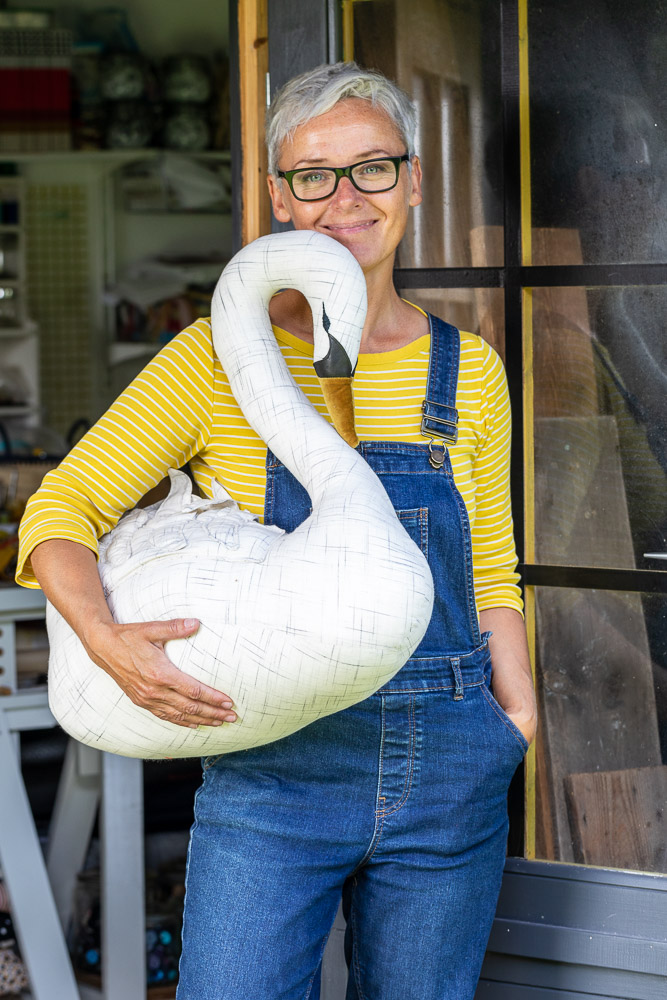 TreeFall Design was created by British designer, Manda McGrory.
Following an unusual career path that includes running away with the circus, training as a carpenter and working as a bank manager, Manda discovered her true passion for all things textile whilst expecting her first daughter in 2004.
An interest in traditional quilting led to a passion for fabrics and in turn to the joys of both craft blogs and online fabric shopping!
After a few years of writing her successful blog (www.treefalldesign.typepad.com) and selling her original designs through a number of international outlets as well as her own Etsy store, Manda was approached by the publishers of the sewing magazine Sew Hip and asked to join the team as the founding Editor.
After the birth of her second daughter Manda decided to refocus her attentions once again on designing and making her own products for the retail market.
She is also a freelance writer and has had features and patterns in a number of magazines, including The Quiltmaker, Australian Homespun, Sew Hip and Sewing World.
Manda's designs have also been featured in Country Living magazine, Ideal Home, Country Home's and Interiors, Junior magazine and Country Living US. Her work has also been published in the book Craft Hope (published by Lark Crafts).
Manda's family home in Leeds was featured in Ideal Home magazine and she can be seen teaching Kirstie Allsopp how to make a beanbag in an episode of series 2 of Kirsties Homemade Home for Channel 4.
She was also commissioned at the beginning of 2011 to make an interactive floor quilt by Bradford Museums, to be displayed along side and to compliment David Hockney's The Diver in Cartwright Hall Museum.
In 2010 Manda also began teaching workshops for Bradford Museums, both for the community and as part of private and home schooling iniatives. She also teaches full day private workshops that include quilt making, dressmaking and introductions to sewing.
After her move to to the Isle of Wight in 2015, Manda took some time out to raise her children and enjoy all the beauty and the amazing lifestyle that the Island has to offer. This has not only led to an obsession with skateboarding and surfing, but also a renewed passion for nature and the land.
This passion for nature was first ignited for Manda in the years of her childhood spent living in Mudeford (just across the water from the Isle of Wight). The sense of nostalgia imbued in each toy animal comes from the colour palette of both the Dorset and the Island's coastlines, the slower way of life away from the big cities and the childlike wonder about what woodland animals secretly get up to when we look away.
The wealth of inspiration that now surrounds Manda and a desire to share it with the world, has meant that she has returned to Treefall with renewed excitement and joy.
If you would like to stock TreeFall Design products, discuss a workshop, or would just like to know more, Manda McGrory can be contacted on –
Address -
Dorretts, Main Road
Brighstone
Isle of Wight
PO30 4AF
Phone -
07803704231

Email –